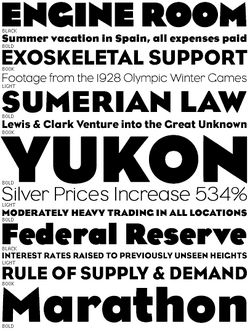 Eagle is a font family that is created by the Font Bureau in 1989. It is a highly-recognizable font.
The Eagle font family started out in 1933 under the name "Eagle Bold" by Morris Fuller Benton. It was made for National Recovery Association. The Font Bureau adopted this font in 1989 and published lower-case letters for it. In 1990, "Eagle Book" was added to the family for starting text. In 1994, "Eagle Light" and "Eagle Black" were added to the family, thus completing the series.
This font family has gained fame throughout the 1930's when "Eagle Bold" became a huge hit. This font family has even inspired the Turner broadcasting company to use the Eagle Bold font for two logos created for one of their 24-hour cartoon channels (Cartoon Network).
         Previous               Next
       10 Minutes     Bellamy Extra Bold